Panda Fusion

Security, Management and Support from the Cloud

Panda Security is now a part of WatchGuard Technologies, please visit our WatchGuard Technologies website to learn more about this product!
Overview:
Panda Fusion is a complete product able to protect, manage and deliver remote support to all your IT devices, including smartphones and tablets. As it is a cloud solution, it is deployed rapidly without the need for maintenance or costly investments in server infrastructure.
Accessible from anywhere and at any time, Fusion is managed from a simple browser, and offers:
Maximum protection against malware and other unknown threats.
Cost savings thanks to the automation of infrastructure management and centralized control.
The best support experience with proactive troubleshooting and remote, non-intrusive access to devices, no matter where they are.
Mange the antivirus on all devices in your network, and provide remote tech support to your employees
Fusion protects, manages and provides remote support to all the devices in your network, including smartphones and tablets.

Why you need an IT management and antivirus solution like Fusion
Maximum Security
Protection for all devices inside and outside the office, 24 hours a day, 365 days a year, without the risk of data loss.
Cloud-base centralized management
All operations are performed in the cloud. No additional infrastructure is required to centrally manage all of your customers' devices, smartphones and tablets.

Cross-platform protection
Fusion protects all of your Windows, Linux, Mac OS X and Android devices, as well as your file and Exchange mail servers, thanks to Collective Intelligence and Anti-Exploit technology against unknown threats.
Minimizes maintenance costs
Fusion optimizes the performance of your IT infrastructure by automating management and centralizing control.
The best support for your users
Proactively resolve your users' problems by remotely and non-intrusively accessing their computers and devices, wherever they are.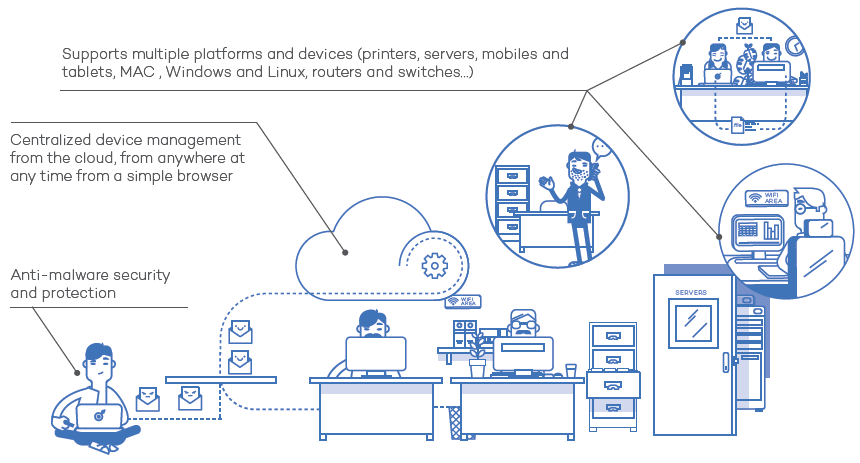 Features:

100% Cloud-Base Solution
Protects, manages and supports all devices –at any time and from anywhere- including those in remote offices and laptops.
No need for additional infrastructure on site.
Simple, central management via a Web browser.
Reduced resource usage: extremely light agent and reduced bandwidth usage when deploying software and automatically updating the protection.
Secure service with ISO 27001, SAS 70, PCI DSS and FISMA certifications.

Security and Protection Against Malware
Complete anti-malware protection for Windows, Linux, Android and Mac OS X workstations, as well as servers and laptops.
Maximum protection with real-time access to Collective Intelligence.
Heuristic and anti-exploit technologies against new threats that exploit unknown vulnerabilities and zero-day attacks.
Firewall (personal or managed).
Antivirus, anti-spam and content filter support for Microsoft Exchange 2007, 2010 and 2013.
Centralized device control (USB data storage devices, DVD/CDs, modems, Bluetooth devices, etc.).
Centralized quarantine management.
Category-based Web filtering and monitoring.
Remote data wiping and password protection for lost or stolen smartphones and tablets.
Advanced tools for rootkit and rogueware detection

Real-Time Device Inventory and Monitoring
Visibility and control of all devices on the network, including smartphones and tablets.
Control and monitoring of CPU usage, memory, disk space, services, software, etc.
Performance graphs and on-screen warnings.
Software and hardware change logs.
License management.

Software and Updates Deployment (Patch Management)
Discovery of unpatched devices and centralized, automatic patching of operating systems.
Centralized software installation.

Remote Automatic Support
Non-disruptive access: remote event logs, command line, task manager, file transfer, registry editor.
Remote desktop access: Shared access or complete control.
Messaging system for direct communication between users and the IT Department.
Ticketing system to organize and classify incidents, share troubleshooting procedures and documentation, etc.
Script creation for automatic troubleshooting.
Quick task creation.
Scalable platform, ability to integrate free components.
Benefits:

Ticket System For IT
Fusion incorporates a ticket system to organize and classify user incidents and shared troubleshooting procedures.

Remote Control and Messaging
Fusion allows you to remotely access the desktop of all users on the corporate network (shared access or total control), or communicate with them through a messaging system.

Profile-Based Configuration
Assign different protection polices to users through configuration profiles.
Apply different levels of protection according to the profile of the user who connects to your corporate network.

Device Control
Prevent malware entry and data leaks by blocking device categories: USB memory sticks and modems, webcams, DVD/CD drives, etc.
In addition, you can establish exceptions with device whitelists, or simply block certain dangerous actions (access, read, write) on protected devices.

Flexible and Rapid Installation
Deploying Fusion across complex networks has never been easier.
Install the solution on your devices through an email with a download URL, or transparently by selecting each device in the built-in deployment tool (compatible with Active Directory, Tivoli, SMS, etc.).

Malware Freezer
Avoid false positives with Malware Freezer. Freeze the malware detected for seven days and, if it is a false alarm, automatically restore the file on the user's system.
Cloud Based Management Platform:
Aether's cloud-based platform and management console, common for all of Panda's endpoint solutions, provide optimized advanced and adaptive security management inside and outside the corporate network. Minimize complexity and maximize flexibility, granularity and scalability.
Achieve more in less time. Easy implementation
Deploy, install and configure the solution in minutes. Immediate value from day one.
A single lightweight agent for all products and platforms (Windows, Mac, Linux and Android).
Automatic discovery of unprotected endpoints. Remote installation.
Proprietary proxy and repository/cache technologies. Optimized communication even with endpoints without an Internet connection.
Simplified operations. Adapts to your organization
Intuitive Web console. Flexible, modular management that reduces the total cost of ownership.
Configures users with total or limited visibility and permissions. Action audit.
Group and endpoint-based security policies. Predefined and custom roles.
Hardware and software inventories and change log.
Easy scaling of security and management capabilities over time
No need for new infrastructure to deploy the modules. No deployment costs.
Real-time communication with endpoints from a single Web console.
Dashboards and indicators per module.
System Requirements:
Panda Fusion 360 is a bundle of the following products: Panda Adaptive Defense 360 and Panda Systems Management whereas Panda Fusion is a bundle of Panda Endpoint Protection Plus and Panda Systems Management.
System Requirements
Operating systems (Workstations)

Windows XP SP3
Windows Vista 32/64-bit
Windows 7 (32/64-bit)
Windows 8/8.1 (32/64-bit)
Windows 10 (32/64-bit)

Operating systems (Servers)

Windows Server 2003 (32 / 64 bits y R2) SP2 o superior
Windows 2008 & R2 (32 y 64 bits)
Windows Server 2012 (64 bits) & Windows Server 2012 R2 (64 bits)
Windows Server 2016 (64 bits)
Windows Server 2019
Windows Server Core 2008, 2008 R2, 2012 R2 y 2016

Prerequisite in PCSM

.Net Framework 4.0.3 or higher.

For macOS workstations / file servers*

Mac OS X 10.10 Yosemite
Mac OS X 10.11 El Capitan
Mac OS X 10.12 Sierra
Mac OS X 10.13 High Sierra
Mac OS X 10.14 Mojave

For Linux workstations / file servers**

Fedora 19, 20, 21, 22, 23 ***
Debian 7, 8
CentOS 7
Ubuntu LTS (Long-Term Support versions)
Red Hat Enterprise Linux 7 and later versions ***

For smartphones and tablets

iOS 7 and later
Android 4.0 and later

For Exchange Server

Microsoft Exchange Server 2003, 2007, 2010, 2013 and 2016

Supports the following virtualization environments

VMWare ESXi
VMWare Workstation
Virtual PC
Microsoft Hyper -V Server
Citrix XenDesktop, XenClient, XenServer and XenApp

Compatible browsers

Internet Explorer
Microsoft Edge
Chrome
Firefox
* The PCSM support is provided only on Sierra, High Sierra and Mojave versions.
** Panda Adaptive Defense 360/Panda Endpoint Protection Plus on Aether Platform only works in Ubuntu and Fedora. The PCSM agent may work with any Debian-based distribution but support is only provided for the ones listed.
*** For new installations of the PCSM Linux agent, you must pre-install the Mono runtime.
Compare:
Functionality extended in other Panda endpoint solutions.

Full functionality.

Functionality extended in other Panda endpoint solutions. Only in Aether-based solutions.

Full functionality. Only in Aether-based solutions.
Adaptive Defense 360
Adaptive Defense
Endpoint Protection
Endpoint Protection Plus
Systems Management
Fusion
Fusion 360
Protection
Protection against known and zero-day malware
Protection against known and zero-day ransomware
Protection against known and zero-day exploits
Anti-spyware, anti-phishing protection, etc.
Protection for multiple attack vectors (Web, email, network, devices)
Traditional protection with generic and optimized signatures
Protection against Advanced Persistent Threats (APT)
Managed service: Classification of 100% of applications before execution (1*)
Managed service: Threat Hunting (2*)
Queries to Panda's cloud-based collective intelligence
Behavioral blocking and IoA detection
Personal and managed firewall
IDS / HIDS
Ability to block unknown and unwanted applications
Device control
URL filtering by category (Web browsing monitoring)
Content, Virus and Spam filtering for Exchange Server
Built-in antivirus protection for Exchange Server
Built-in anti-spam protection for Exchange Server
Monitoring
Advanced endpoint security
Cloud-based continuous monitoring of all process activity
Data retention for one year for retrospective attack investigation
Detection
Detection of compromised trusted applications
Managed service: Classification of 100% of applications during and after execution (1*)
Fully configurable and instant security risk alerts
Containment
Real-time computer isolation from the cloud console
Response and remediation
Ability to roll back and remediate the actions committed by attackers
Centralized quarantine
Automatic analysis and disinfection
Investigation
Managed service: Threat Hunting (2*)
Incident graphs and lifecycle information available from the Web console
Ability to export lifecycle information for local analysis
Advanced Visualization Tool (add-on)
Discovery and monitoring of unstructured personal data across endpoints (add-on)
Attack surface reduction
Information about each computer's hardware and software components
Information about the Microsoft updates installed on endpoints
Real-time information about the status of all protections and communications
Unattended, automatic updates
Automatic discovery of unprotected endpoints
Ability to immediately protect unprotected endpoints remotely
Panda native proxy to support endpoints with no Internet connection
Endpoint security management
Centralized cloud-based console
Settings inheritance between groups and endpoints
Ability to configure and apply settings on a group basis
Ability to configure and apply settings on a per-endpoint basis
Real-time deployment of settings from the console to endpoints
Security management based on endpoint views and dynamic filters
Ability to schedule and perform tasks on endpoint views
Ability to assign preconfigured roles to console users
Ability to assign custom permissions to console users
User activity auditing
Installation via MSI packages, download URLs, and emails sent to end users
On-demand and scheduled reports at different levels and with multiple granularity options
Security KPIs and management dashboards
System status reports at different levels and with multiple granularity options
Device inventory and audits
Agent and agentless monitoring of devices
Patch management
Centralized software installation
Non-disruptive remote access
Remote Desktop
Built-in chat
Task automation and scripting
Component store - ComStore
Ticketing/Help Desk
Modules
Panda Data Control integration
Advanced Reporting Tool integration
SIEM integration
Panda Patch Management
Panda Full Encryption inregration
High availability service
Host platform certifications
ISO27001, SAS 70 ISO27001, SAS 70
ISO27001, FISMA, SAS70, PCI DSS
Supported operating systems
Supports Windows
Suppots Exchange
Supports macOS X
Supports Linux
Supports Android
Supports iOS
Support for virtual environments - persistent and non-persistent (VDI)**
* Panda Fusion is a bundle of Panda Endpoint Protection Plus and Panda Systems Management. Panda Fusion 360 is the combination of Panda Systems Management and Panda Adaptive Defense 360 that are sold separately
** Compatible systems with the following types of virtual machines: VMWare Desktop, VMware Server, VMware ESX, VMware ESXi, Citrix XenDesktop, XenApp, XenServer, MS Virtual Desktop y MS Virtual Servers. Panda Adaptive Defense 360 & Panda Fusion 360 solutions are compatible with Citrix Virtual Apps, Citrix Desktops 1906 & Citrix Workspace App for Windows, Panda Securtity has been verified as Citrix Ready partner.
1* 100% Classification Service.
2* Threat Hunting and Investigation Service
Cleaner Monitor:
Do you think your network could be infected, even though your antivirus tells you otherwise?
This is an advanced disinfection tool that runs a complete scan based on Collective Intelligence or cloud scanning in order to eliminate malware that traditional antivirus products are unable to detect. The benefits of having 25 years' experience detecting and disinfecting malware have enabled us to develop a solution that can monitor all the scans on your network and eliminate any latest generation viruses detected, remotely and from a centralized point.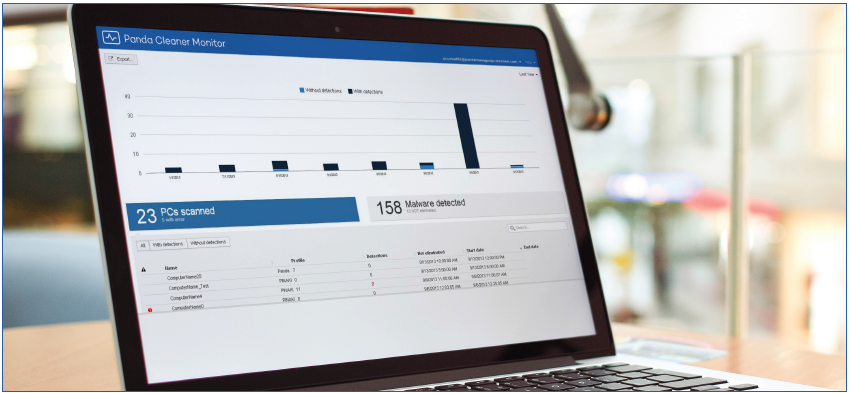 Latest Technology
Includes the latest technologies, which are more aggressive than conventional antivirus solutions in detecting and disinfecting latest threats.


Automatic Reset
Cuts out the manual tasks of restoring infected systems, automatically undoing the changes made by malware to operating systems and restoring system policies.


Central Monitoring
Stores all scan and disinfection results in a single cloud-hosted repository for all computers on the network. Access it through a simple Web browser and get the information that you need.
Compatible Con:
Windows 8 (32 and 64-bit)
Windows 7 (32 and 64-bit)
Windows Vista (32 and 64-bit)
Windows XP SP2 or later (32 and 64-bit)
Windows 2000 Professional
Windows Server 2003 (32 and 64 bits)
Windows Server 2008
Windows Server 2008 R2
Windows Server 2012 (32 and 64 bits)